Information:On the go all day long? L'eggs Sheer Energy Active Support Leg pantyhose provides the full support you need. Built-in compression improves circulation to relieve and refresh aching legs.Surprisingly sheer knit clings to your every curve for smooth fit and flawless finish.Regular non-control top helps assure constant comfort.Sheer toe lets you step out in style in sandals and open-toe shoes.
Features: Panty: 84% Nylon, 16% Spandex; Leg: 71% Nylon, 29% Spandex
Perfect women's pantyhose
you can't walk in heels all day long because it aches but L'eggs Sheer Energy Active Support Regular Pantyhose pro gives me comfort and blood circulation which makes it possible to wear heels all day long without any sort of ache.
nice leg pantyhose
So finally I have found a nice leg pantyhose which gives me intense relieve, flawless finish and curves that I have ever want.
I love the way it grips my leg
I have a kind of job, which demands to stand all day long. At the end of the day, the leg pain kills me and I have to get up for the next day as well. The problem of this solution is Legg's sheer energy. It supports my leg muscles in a way that I do not feel any tiredness or aching in legs. Very comfortable and affordable. I love the way it grips my leg and supports each and every muscle.
---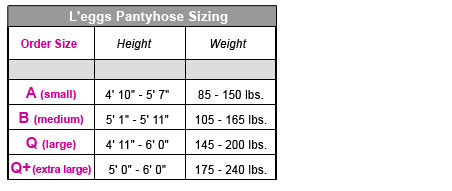 If you want to return this item for any reason, you may return it within 25 days of receipt and 15% restocking fees will be apply on total item amount sold except damage or wrong item. Furthermore intimates items are non-returnable. Return Policy