Information:'Perfect Support'...'What comfort and great fit!'...'This is as close to a perfect bra as I've found' Customer Reviews Always on the go? Here's your go-to Playtex bra. It supports your every move. And keeps you cool when the heat is on. Flexible comfort design shapes to fit your curves. All Day Dry™ wicking fabric helps you stay cool and dry. Lightly padded cups give shapely support without show-through. (Seamlessly smooth under clothes.) Plush-cushioned underwires add comfortable lift and shape. Plush-ribbed bottom band flexes for ease of movement. Super-soft sides and back stretch for flawless fit.More reasons to buy:TruSUPPORT® bra design provides: (1) higher sides for coverage; (2) fuller cups for natural shape; (3) wider straps for comfort; and (4) smoother back for stability. Cup lining is ultra-sleek foam for shape without added bulk. Straps adjust in front for convenience. Easy-to-fit sizes make it simpler to find the right size.
Features: Polyester/nylon/spandex/cotton
Playtex 4910 cups supports me completely
Got Playtex Play Outgoer Seamless Knit Underwire Bra couple of weeks ago and I am very happy with the comfort it provides. My previous bras were not that good for support, but Playtex 4910 has the cups, which supports me completely, but without much showing off.
Awesome lift this Playtex 4910
Awesome and good lift by this bra. Truly surprised by the fit and comfort.
---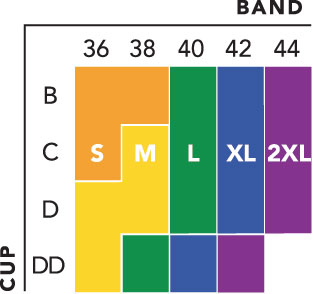 If you want to return this item for any reason, you may return it within 25 days of receipt and 15% restocking fees will be apply on total item amount sold except damage or wrong item. Furthermore intimates items are non-returnable. Return Policy