Information:'I absolutely love this bra!...unbelievably comfortable'...'So soft and supportive! This is my new favorite bra' Customer ReviewsBusy day ahead? Zip into this Playtex Play® bra. It supports you in total comfort through all your favorite activities. Cushioned full front zipper allows easy on-and-off. (Plus, it locks down for carefree wear.) All Day Dry™ outer fabric wicks moisture to keep you cool. Seamless molded cups give you naturally shapely curves. Airy mesh cup lining adds cooling ventilation. Breathable mesh sides stretch for all-day ease. Plush-ribbed bottom band flexes for freedom of movement. Strappy back design adds extra support and style.More reasons to buy:TruSUPPORT® bra design offers 4-way support without wires. Wide padded front straps deliver non-stretch stability. Sleek satin back straps stretch for flexible fit. (Plus, they attach at two separate places for no-slip security.) Smart sizing makes it simpler to find your perfect size.
Features: 45% Polyester/44% nylon/7% spandex/4% cotton
Finally, a comfortable bra after breast reduction!
After breast reduction surgery, I've been really searching for a comfortable bra. This bra is extremely comfortable. I can even sleep in it without discomfort. I loved the front zip especially when I had minimal movement in my arms the first week or so. I think it will be perfect.
---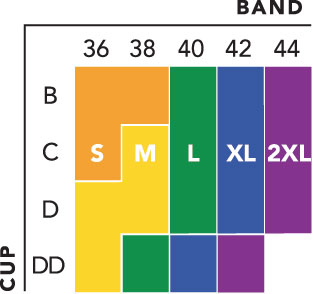 If you want to return this item for any reason, you may return it within 25 days of receipt and 15% restocking fees will be apply on total item amount sold except damage or wrong item. Furthermore intimates items are non-returnable. Return Policy